■ Details
- Used for all drilling operations such as ends of railway rail joints, branches, etc.
- The two-stroke Mitsubishi small engine is installed, allowing one operator to carry and work, enhancing drilling performance
- Special parts such as integrated rail jig, ball joint clamp, integrated scale, etc. are used to shorten working time and increase work efficiency and accuracy.
- It is the most advanced perforator that takes 1 minute ~ 1 minute 30 seconds from clamping to perforation.
- Core drill uses SKH-59 (M42) HSS 59 material to improve toughness, abrasion resistance and abrasion
- It is a special blade dedicated to perforator which has been proved its performance after perforating test in every production.
■ Pictures and Specilist component​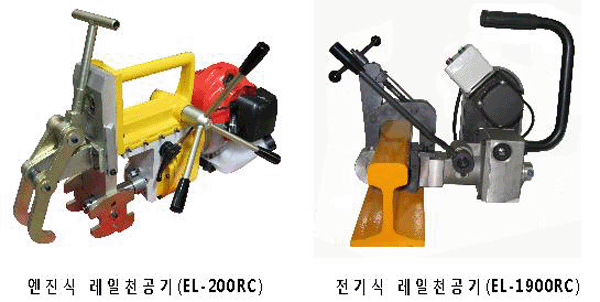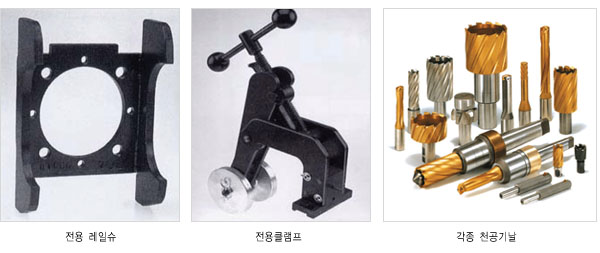 ■ Data
구 분

Engine type(EL-200RC)

Electric type(EL-1900RC)

Power

Air-cooled two stroke

220V Single phase

Maximum output

2.0PS
1.9PS

Revolution per minute(RPM)

280PM
280RPM

Core drill diameter

Φ11~Φ32(Core type), Not more Φ11(Drill type)

Φ11~Φ32

Pure mixture ratio

(Engine oil: Gasoline)

1:40
-

Dimension

610(L) X 465(H) X 370(W)mm
330(L) X 450(H) X 250(W)mm

Weight

23kg
18kg

Component

1 iron box for storage, 1 core drill (Φ25) for rail, 1 semi-automatic cutting circulation,

1L cutting oil, 1L engine oil, 1 integral scale, 1 set of basic tools, manual
■ Integrated Rail Jig Mounting Photos by Rail Specification